CLASSIC NEW ORLEANS
RHYTHM & BLUES/ROCK & ROLL
COMES ALIVE AGAIN!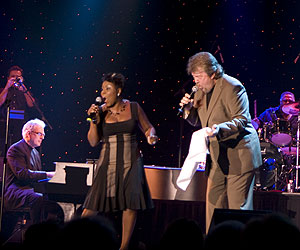 Joint's Jumpin' is a celebration of the classic New Orleans Rhythm & Blues songs and styles that have influenced R&B hitmakers for over half a century. This is hip swaying, soul stirring music that captures the smokey sass and brass of a French Quarter nightclub performance back in the heyday of New Orleans live music.
This fabulous show will knock your socks off and you'll be Barefootin',Strollin' and Second-Lining to the freewheeling, happy-go-lucky music with high-energy arrangements, soul-shaking horns, and locally flavored vocals that made New Orleans a major player in the popular music stream of a carefree, fun time in our nation's post-war history. The most exciting city in America; the one that gave the world jazz, great food and a rich history defined by dozens of cultures, showcases nearly three dozen R&B/R&R milestone hits that dominated the Billboard Rhythm & Blues charts and helped define the music world of half a century ago.
A fabulous ensemble of New Orleans' top singers and musicians rock the house, singing and playing the songs of
Fats Domino
Lloyd Price
Huey "Piano" Smith
Clarence "Frogman" Henry
Chris Kenner
Ernie K-Doe
Smiley Lewis
Shirley & Lee
Irma Thomas

Allen Toussaint
Aaron Neville
Art Neville
The Dixie Cups
Professor Longhair
Lee Dorsey
Jean Knight
Barbara George
The Meters
. . . and others . . . Including many "local" standards in the charmingly distinct New Orleans "Yat" dialect you probably never heard before but will want to hear again . . . and again . . . and again! Led by Musical Director and pianist, Lawrence "Larry" Sieberth, Joint's Jumpin' features a 15-piece "A-list" group of New Orleans musicians and vocalists! Click here to Meet the Band
You, too, can be rockin' and rollin' to the sights, sounds, and thrills of New Orleans as it was "Back in the Day."Joint's Jumpin' will be touring nationally and may be coming to your city or one near you. Be looking for it: "We be lookin' fo' you . . . Yeah, you rite, dawlin'!"
Read a review of the show by Dean Shapiro.
Here's what some of our fans have had to say about the show so far:
"Joint's Jumpin' is a rousing, high-energy, get-out-of-your-seat revue of all the music we love! Joint's Jumpin' puts the spotlight on some of the most enduring contributors to the New Orleans R&B music tradition."

Carmen Conner Post
WWOZ Radio
New Orleans, Louisiana


"At last the historical Rhythm and Blue music of New Orleans comes to life for all to thoroughly enjoy in Joint's Jumpin'! A fabulous cast of dynamite singers and stellar musicians interpreted with precision; the classic songs that we danced, cruised and hung out to. My only regret was that this "special" night ended far too soon."

Jules Bauduc
Lake Oconee, Georgia


"Congratulations for putting on such a fabulous show. The music was great, the singers were entertaining and the crowd loved it. My wife and I are thankful we were present at the birth of something so special."

Doug Tatum
Louisville, Kentucky


"I just wanted to write and tell you how much I and my staff enjoyed the show. When I learned about the lineup of musicians for Joint's Jumpin'I expected great things and I wasn't disappointed. The show was solid; the band was tight, the singers had incredible harmonies; the set was beautiful and I thought the energy was really good. I felt really lucky to get to hear the show all three nights."

Barry Smith
Louisiana Music Factory
New Orleans, Louisiana