MEET THE BAND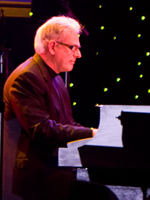 Lawrence "Larry" Sieberth,
Musical Director and Pianist
Lawrence Sieberth is a self-described "musical chameleon," stylistically adaptable to whatever genre the occasion warrants. His musical background is very diverse, being a pianist, composer, arranger, musical director, educator, and producer. His collaborations with other musical artists have put him in the best of company around the globe, and he has been honored as outstanding jazz pianist by both New Orleans Magazine and Jazziz. His soundtracks for television, film and stage have earned a number of awards, including a Telly and the Silver Gala Media Award. His contributions as arranger and musical director for stage include Hats: The Musical, My-O-My, Cocktails In the Ladies Lounge, and now Joint's Jumpin'.
As a featured artist at the New Orleans Jazz & Heritage Festival, Lawrence is often called upon to arrange and direct many of the special performances, including Sophisticated Ladies and The Dewdrop Inn Revisited. His latest CDs New New Orleans, and Arkipelago, can both be found on his website, www.musikbloc.com. He is presently a member of the jazz faculty at Loyola University.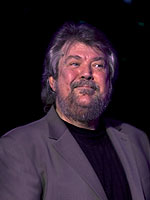 Luther Kent, Vocals
Luther Kent is a New Orleans musical icon. He toured with and sang lead for Blood, Sweat & Tears in the mid-1970s and established a loyal following at clubs on Bourbon Street in the 1980s. After hours, wherever he performed was the "place to be" as some of the most famous musicians and singers of the late 20th century came in to jam with Luther and his band, Trick Bag.
Luther started singing at 14 and never wavered in his commitment to the blues genre. He recently released a CD paying tribute to his idol, Bobby "Blue" Bland, that is garnering rave reviews. In addition to heading up a 19-piece band made up of some of New Orleans' finest musicians, the new CD is also guided by legendary musical director and arranger Wardell Quezergue. In Joint's Jumpin', Luther's high-intensity style propels the show to some of its most memorable moments. Read more about him at www.lutherkent.com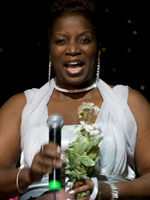 Gina Brown, Vocals
"Sweet" Gina Brown has been singing as long as she has been talking. From family functions as a child, her career progressed to wedding ceremonies, underground jazz clubs, outdoor festivals, 5-Star hotels, and international tours to South America and Asia. She has shared the stage with Gerald Levert, Jon B, Pattie Austin, Earl Turner, Etta James, Bad Company, Fantasia, and Ruben Studdard from American Idol. She also toured with Comic Relief's Tony Clifton.
In 1994 she began a long association with jazz violinist Michael Ward, and is featured on his first CD, Laid Back. Gina recorded her first solo CD while on tour in Bangkok in 2002, and is on the compilation CD, Fulton Street Live, produced by Harrah's New Orleans. She recently released a single titled "Can't Stop Thinking Of You" and a Live CD with her band, Gina Brown & Anutha Level Live.
Read more about her at www.ginabrownonline.com or www.myspace.com/anuthaginamusic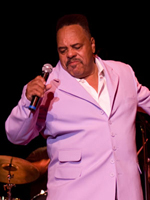 Tony Owens, Vocals
Tony Owens has been singing professionally for over 35 years. He started singing as a child in a little Baptist church in an old New Orleans neighborhood called Zion City.
Tony recorded a smash hit song in the 1970s titled "Confessing a Feeling" that skyrocketed in the national R&B charts. He now has a CD on the market on the London-based Grapevine record label, titled I Got Soul. Commenting on his singing style, Tony says, "If I can touch someone's heart in some way, if I could bring back a pleasant memory, if I could make someone smile, if I could open someone's eyes with a song, then I believe God would smile upon me, and that is how I measure my personal success! I want people to say 'When you hear Tony sing, you don't just hear him, you feel him.'"
You can contact Tony at the following email address owetony@gmail.com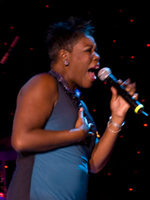 Danon Smith, Vocals
Born and raised in one of New Orleans' richest musical neighborhoods, the Lower Ninth Ward, in the shadow of Fats Domino's house, Danon's (pronounced day-non) musical training began in church. The niece of gospel great, Bessie Griffin, Danon's singing style and vocal range have landed her some prestigious gigs over a stellar career.
Danon has performed or recorded background or lead vocals with Stevie Wonder, Willie Nelson, Gladys Knight, Dave Bartholomew, Wardell Querzergue, Yolanda Adams, Bishop Paul S. Martin, Kirk Franklin, Kim Burrell, Irma Thomas, Jean "Mr. Big Stuff" Knight, The Dixie Cups, Davell Crawford, Lady BJ Crosby, and many more. She has sung with Deacon John and the Ivories for the past 19 years, performing with them at the White House in December 2005 after Katrina. Danon's band, The Perfect Gentlemen, perform in New Orleans and surrounding areas in anticipation of their debut CD and accompanying tour. To contact her, email danonsings@hotmail.com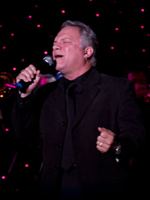 Johnny Vindigni, Vocals
"Timeless hits performed by a timeless voice." That describes New Orleans' own Johnny Vindigni. He began honing his craft at the age of 9, performing live at "The Blue Room," one of New Orleans legendary music venues in the Roosevelt Hotel. Joining the Gulf Coast Circuit, he performed with local and national recording artists Brenda Lee and Frankie Ford.
The lure and raw charm of Bourbon Street called, and Johnny moved from musician to "front man" and he has been there ever since. In the '70s Johnny performed in Lake Tahoe, Reno and Las Vegas with show and club house bands. When Johnny came marching home to New Orleans, he spent 11 years entertaining the crowds at the Piano Bar in Pat O'Brien's. Since the '80s he has performed with many legendary Louisiana bands, including The Jackson Brewin' Company, Benny Grunch and the Bunch, the Wiseguys, and the Blue-Eyed Soul Revue. You can reach Johnny at jvindigni@yahoo.com.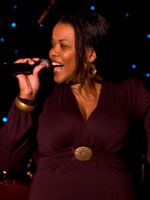 Tereasa Betts, Vocals
Bitten by the performing bug at an early age, like many soul singers, Tereasa Betts sang in the church choir as a young girl growing up. As one of the main lead singers of the youth church choir, Tereasa was following in her late mother, Gloria "Tweet" Betts' footsteps.
Since turning professional, Tereasa has had the pleasure of working with many artists ranging from "The Cash Money Millionaires" to "The No Limit Soldiers." She's also shared the stage with such stars as Grammy winner Irma Thomas, Phillip Manuel, Germaine Bazzle, Leah Chase, Ceasar Elloie, Michael Ward, Kermit Ruffins, Marva Wright, and Earl Turner, plus Luther Kent, Lawrence (Larry) Sieberth, and the other members of the "Joint's Jumpin'" cast. She has also traveled all over the U S, performing with many well-known artists, including Patti Austin. When it comes to entertaining, Tereasa B. can't stop and won't stop giving it all she's got. Tereasa can be reached at tereasasings2003@yahoo.com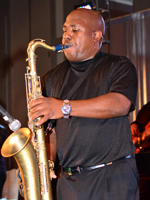 Roderick Paulin, Tenor Saxophone
As a direct descendant and practitioner of not only traditional New Orleans music, but modern jazz, bebop, big band arranging, educator, side-man, clinician, and record producer Saxophonist Roderick Paulin is a man that wears the many aforementioned hats with integrity and style. His humble beginnings started with his father, Ernest "Doc" Paulin; performing brass band music who was responsible for launching the musical careers of many local greats such as Donald Harrison, Michael White, & Gregg Stafford to name a few.
His collaborations over the many years has afforded Roderick many opportunities, as a result of his chameleon-like approach, to perform and or record with fellow saxophonist Maceo Parker, Patti LaBelle, The Grateful Dead, Branford Marsalis, The ReBirth Brass Band, Nicholas Payton, & Fred Wesley. Roderick grew up admiring other great saxophonists such as John Coltrane, Cannonball Adderely, and Kenny Garrett. "Every sax player that's serious about gettin' better on their axe(horn), has listened to countless hours of recordings of the masters." So now at the age 43-years old Paulin has no intention of slowing down pursuing his dream of being involved in music at its' highest level- whether performing, teaching, arranging or whatever. He can be contacted at begband@bellsouth.net.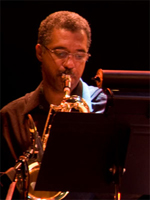 Alonzo Bowens, Baritone Saxophone
Musician and educator, Grammy Award-winner Alonzo Bowens has been playing the saxophone professionally for over 40 years. During that time he has performed and recorded with many local and national artists, including Dr. John, Wynton, Ellis and Delfayo Marsalis, Stevie Wonder, and The O'Jays. His Grammy was awarded in February 2009 for the saxophone and horn arrangements he contributed to the album City that Care Forgot by Dr. John and the Lower 911. The CD, recorded in late 2007, won in the category "Best Contemporary Blues Album." Alonzo has played with Dr. John for six years.
Alonzo also appeared in the movie "Ray," much of which was shot in New Orleans. He played alto sax in the band that backed Jamie Foxx in the title role. He is a recipient of the "Music of the Heart" award, which represents excellence in the field of Music Education. He can be reached at albomusic2000@yahoo.com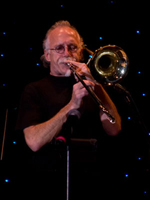 Rick Trolsen, Trombone
When one hears the name Rick Trolsen, the first thing that comes to mind is Bonerama. Rick was one of the original members of this famously innovative group of trombonists that brought its revolutionary sound to New York and other parts of the world. But, over a long career, which includes 26 years in New Orleans, Rick has had many other professional accomplishments.
He has played and recorded with most of New Orleans' local musical heroes, among them Dr. John, Allen Toussaint, Clarence "Gatemouth" Brown, and Irma Thomas. Add to this impressive list such internationally known luminaries as Bob Hope, the O'Jays, Joe Sample and the Crusaders, Phish, and Gino Vanelli. He currently leads three groups: Neslort, a jazz/rock hybrid that showcases his original compositions; Gringo do Choro that plays Brazilian music, and the New Orleans Po-Boys, playing the jazz styles of old New Orleans. Visit www.ricktrolsen.com and www.myspace.com/gringodochoro for his calendar, news, and music!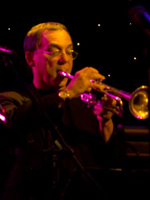 Bobby Campo, Trumpet
Trumpeter Bobby Campo has an impressive portfolio of accomplishments to trumpet. Including playing his horn on more than three dozen albums and CDs with such luminaries as Charlie Daniels, John Fred & His Playboy Band, Clarence "Gatemouth" Brown, and the famous Louisiana band LeRoux. He has recorded on such industry giant labels as Capitol, RCA, Epic, Rounder, and Polygram, and he has performed on Austin City Limits, Midnight Special, Solid Gold, and Don Kirschner's Rock Concert.

After ten years of performing with LeRoux and traveling with Brown, Bobby went back to school and got a Masters degree in trumpet and a teaching certificate. He is currently a music teacher and a freelance trumpet player in the New Orleans area, working with Don Vappie and the Creole Jazz Serenaders and Luther Kent. Bobby has a CD, written for a jazz septet, coming out soon. He can be contacted at rcampo@bellsouth.net
Barney Floyd, Trumpet
Barney Floyd has been a professional musician since 1981 and has amassed an incredible list of credits. From touring with famous circus troupes to Tony Award-winning Broadway shows to the tribute bands of the great big band leaders, Barney has nearly done it all.
Since moving to New Orleans in 1990, he has hooked up with some of the area's top singers and musicians, including Marva Wright, Kermit Ruffins, Vince Vance, Luther Kent, Al Belletto, Wardell Quezergue, Dave Bartholomew, Ronnie Kole, The Dixie Cups, and Clarence "Gatemouth" Brown. He has recorded with Gatemouth Brown, Ruth Brown, Marcia Ball, Irma Thomas, Tracy Nelson, Al Martino, Bobby Charles, and many others. Currently Barney is an original member of the New Orleans Jazz Orchestra under the direction of Irvin Mayfield. Barney holds a degree in music from Western Michigan University in Kalamazoo. He can be reached at Barneyfloyd@bellsouth.net or you can read about him at www.neworleansnightcrawlers.com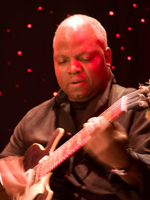 Anthony Brown, Guitar
Anthony Brown is widely known as one of the most innovative, versatile guitarists in New Orleans. Equally proficient in fusion, pop, R&B, jazz, and other genres, Anthony's exceptional skills as a recording and performing artist have made him "first call" for some of New Orleans' top names: The Dixie Cups, Rock & Roll Hall of Famer Allen Toussaint, Grammy winner Irma Thomas, and more. And his impressive credits don't stop at the city limits. He has also shared the stage with Elvis Costello, Michael McDonald, Lenny Kravitz, Smokey Robinson, and a host of other greats, even recording with some of them.
Anthony's focus these days is leading his own collection of consummate musicians under the name "The Renaissance." This diverse ensemble, featuring songwriters, studio engineers, producers, instructors, and recording artists, is the House of Blues' house band for all of its corporate or private events. For more information go to www.myspace.com/therenaissancelive or http://www.youtube.com/watch?v=2WiI6gFEuzI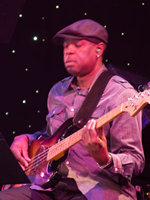 Donald Ramsey, Bass
Raised on the New Orleans gospel scene, bassist/vocalist Donald Ramsey began his musical journey playing drums in the church at age 14. He accompanied such gospel greats as Sammy Berfect, Rev. Lois Dejean, and Raymond Myles. A self-taught bassist, at 17 Donald ventured into R&B with New Soul, Inc. Since then, he has branched into other musical genres such as jazz, funk, blues, reggae, fusion, and rock while traveling the world for the past 28 years.
Donald performed with Herbie Mann at the 2003 New Orleans Jazz Festival, which turned out to be Mann's last performance before his death. He has also backed Boz Scaggs, Bo Diddley, Melba Moore, Angela Bofill, Patrice Rushen, Dr. John, Aaron Neville, Lee Oskar, Marva Wright & the BMW's, James Rivers, and too many other great musicians to count. In the spring of 2009 he will begin touring with legendary guitarist John Scofield. You can read more about him at www.myspace.com/donaldramseymusic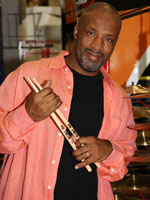 Jeffery "Jellybean" Alexander, Drums
After his dad died, his mom saw he was serious about "making it" in music, so she worked two jobs to buy him his first drum set. Jeffery "Jelly Bean" Alexander cherishes those memories and has grown from beating on pots to a world traveled musician who is passionate about his music. He brings a love of drums to the stage that is terribly contagious. His answer, "I just love what I do and do what I love." It is obvious that he means every word because with every beat that love comes forth.
Jeffery is noted for his annual performances at the New Orleans Jazz & Heritage Festival, toured throughout the U.S and played on international stages. His travel includes performances in Japan, Switzerland, Holland, England, Brazil, France and Germany, Italy and many notable venues.
He has performed and recorded with a diverse group of artists including funkmaster George Porter, Jr, Papa Grows Funk, Jon Cleary, Marva Wright, Lightning Blues, Snooks Eaglin, Zachary Richard, The Adams Griffith Project and the list goes on. In addition to musician, Jeffery Alexander has earned his producer props by releasing the first project "Full Circle" on his own label, Siloam Music. The project features his wife and co-producer inspirational singer/songwriter Tara Alexander and a host of New Orleans musicians and singers. Through his label, Jeffery is planning to produce projects that are true to his soulful roots and reflect messages of hope and healing for the spirit and the world.